Finally, the joyous full weekend of football we've been waiting for happened! Now, I might even go to campus or New Orleans for some gameday fun. Both teams put together beautiful games. Makes each weekend a little more fun, doesn't it? Either way, I love football season, and the weather being so great does not hurt. I've got every Saturday off in November, so I hope it keeps going a bit longer.
Selena always says, "after Elizabeth's birthday in mid-October, the year, events, and time just fly." And, with how I plan and work, I do begin to arrange everything from now through Jazz Festival and our birthdays in the spring! This month and next are pretty full of gigs and lots of private parties.
This month, one of my favorite gigs: "White Light Night" at Monjuni's Italian Restaurant, Friday Nov. 21, 6 – 10pm. This art hop event in Mid City, along and near Government St., is always full of folks, fun, food, live music, and local artist displays. I'll be outside Monjuni's, sending some tunes out to the crowd. I've also been asked to play at Iverstine Family Farms' Harvest Hangout on Sunday, Nov. 23, 3 – 6pm, 2973 Newman Road in Kentwood, LA. There will be hay rides, farm dinner, and tours. You can order a fresh holiday turkey, too. Child and adult tickets are available at http://iverstinefarms.ticketbud.com/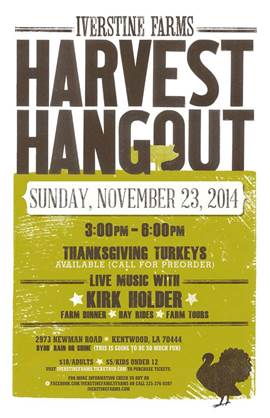 I'll be continuing the Wednesdays evenings at Bin 77 in Perkins Rowe and Sunday brunch at Beausoleil, every week. I've also got shows at Churchill's, Metairie Country Club, Bacchus Bistro, Lava Cantina, and Bar Louie. Go to my Dates link on kirkholder.com for all shows.
I love Thanksgiving more than ever with Selena here always making a fabulous meal and many family and friends joining our table. We are indeed blessed. I hope you will have a wonderful Thanksgiving, with hearts and bellies full – maybe we can all share our good fortunes with those in need, as the season of goodwill begins.
Happy Thanksgiving, my friends!
KH